Huron Pointe Excavating is one of the most respected names in the marine excavation industry, who have been successfully meeting and exceeding customer expectations since 1970.
No matter the project, such as seawalls, docks, or marinas, we stand ready to execute all of the work necessary to complete your project in a timely and affordable manner. If you own a beautiful property by the water, then welcome to the right place.
Unlike other marine excavation companies that are difficult to reach, we pride ourselves on our quick response times and quotes for providing maintenance on docks, seawalls, and marinas that maximize their lifespan while saving you money.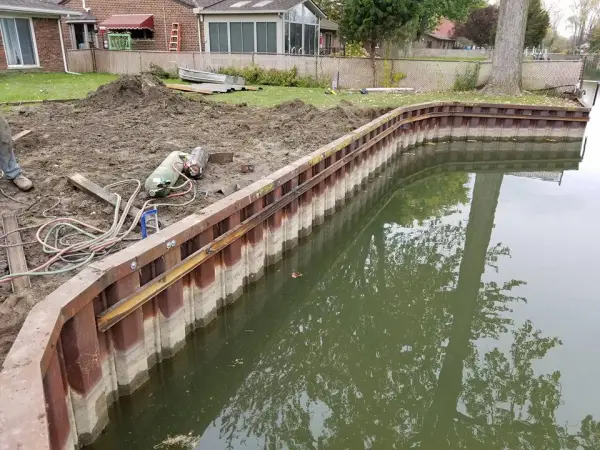 Seawall Construction
We work with a variety of commonly used materials for seawalls and can help you make the right choice depending on your needs and environment. Materials include:
Vinyl
Steel
Concrete
Galvanized
Wood
Choosing the right marine contractor is very important, and our team is ready to demonstrate our passion for professionalism and superior workmanship. Our seawalls are engineered and constructed to the highest quality standards, and we stand behind our craftsmanship and products to ensure that you are 100% satisfied.
Having trustworthy information from an experienced marine contractor is crucial when considering seawall repairs or maintenance. That's why we're dedicated to providing honest and accurate assessments and estimates, so that you understand exactly what types or repairs are needed and what you can expect them to cost. Some common repairs that we perform regularly include:
Cap replacement or patching
Seam repair
Helical tie back placement
French drain maintenance or installation
Dredging
At Huron Pointe Excavating, we also perform high-quality maintenance dredging for boat slips. Over time, boat slips can accumulate silt and become shallow. Maintenance is key; it can keep your boat slip functioning property by maintaining a proper depth.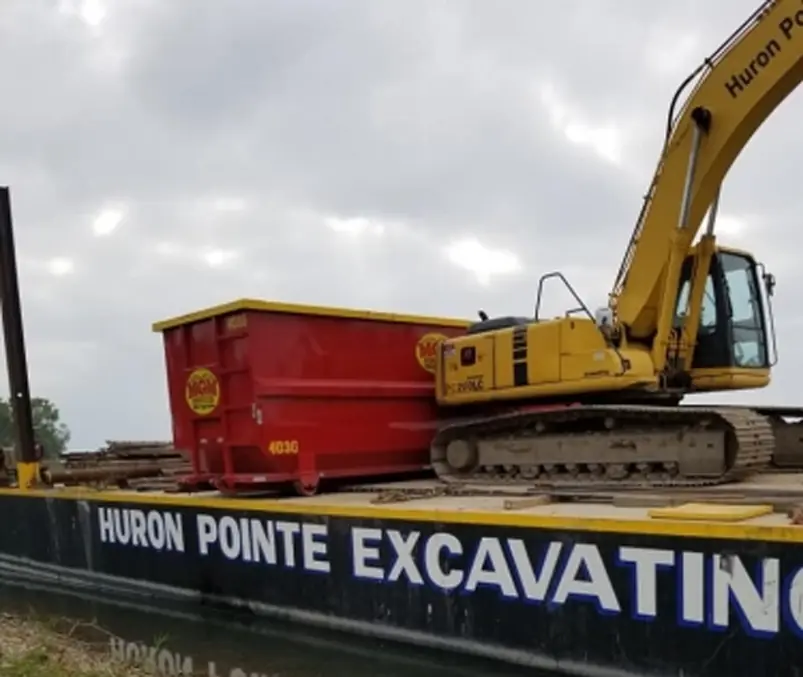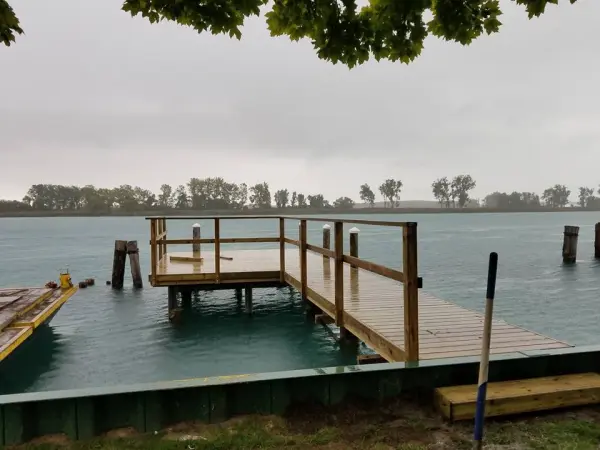 Quality Dock Construction Services from Beginning to Bunking
The team at Huron Pointe Excavations realizes every dock is unique. Before discussing options, we will listen carefully to your needs before considering designing a dock that both looks great and functions properly based on your specific needs.
Our marine contractors will build your dock or pier to the highest standards of quality to ensure long-lasting results. Each dock is customized to fit our customer's needs and location; we only build with extra framing, support, and heavy marine hardware secured with quality materials.
Marine construction must be taken seriously; poor construction can lead to safety and liability issues, not to mention costly repairs. Trust the Michigan team with over 40 years of experience.
See Our Work
At Huron Pointe Excavating, we provide you with decades of combined experience in marine construction. Our dock builders are highly experienced in the world of marine, and we can provide you with the latest techniques and quality workmanship that's second to none. For seawall installation and repair to dock construction and dredging services, we are a full-service seawall construction and maintenance company that are more responsive than anyone else in the industry – we guarantee it. Contact us today for a quote!  We service Harrison Township, Algonac, New Baltimore, Saint Clair Shores, Macomb, Grosse Pointe, and all the surrounding Southeast Michigan cities for seawall construction and maintenance to combat erosion and keep your home or business in top condition.