Seawall Repairs
Huron Pointe Excavating leads the way in delivering projects on time and on budget. We are proud of the time and research we place with every project we begin, to ensure that we are delivering the right solutions for your unique situation. For over 40 years, our firm has built our reputation on ensuring that your project gets done correctly, on time, on budget, and to your exact specifications. Having reliable information from an experienced marine contractor is crucial when considering seawall repairs or maintenance. That's why we're committed to providing honest and accurate assessments and estimates, so that you understand exactly what types or repairs are needed and what you can expect them to cost.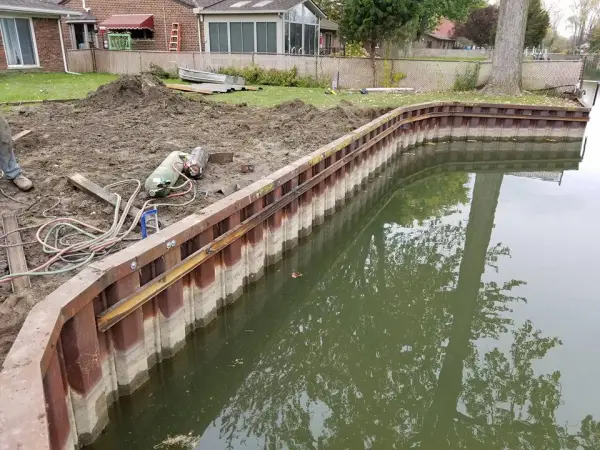 Our Team Is Experienced With These Products
Vinyl
Steel
Concrete
Galvanized
Wood
At Huron Pointe Excavating, our company has one goal, to provide high-quality seawall repairs for customers around Saint Clair Shores MI, with a emphasis on customer satisfaction. We have worked in Michigan for over forty years. Our quality customer service will ensure that your experience with us is exceptional and pleasant. What makes use different from other marine excavation companies that are difficult to reach, we pride ourselves on our quick response times and quotes for providing maintenance on docks, seawalls, and marinas that maximize their lifespan while saving you money. Protecting your property from the potential damages of sea-water requires skill and knowledge, our team has worked extensively along the lakes in Michigan.
Dock Construction Services from Beginning to Bunking
The team at Huron Pointe Excavations realizes every dock is unique. Before discussing options, we will listen carefully to your needs before considering designing a dock that both looks great and functions properly based on your specific needs.
Our marine contractors will build your dock or pier to the highest standards of quality to ensure long-lasting results. Each dock is customized to fit our customer's needs and location; we only build with extra framing, support, and heavy marine hardware secured with quality materials.
Marine construction must be taken seriously; poor construction can lead to safety and liability issues, not to mention costly repairs. Trust the Michigan team with over 40 years of experience – contact us to discuss your seawall repairs and marine construction project.